Americans shifted to the great outdoors for exercise and peace of mind as the pandemic wore on, and Aetrex's performance insoles and orthotics mirrored that shift as the company saw a spike in sales, particularly its premium Training and Memory Foam custom fit collections, reports Matt Schwartz, executive vice president of sales. But it was the debut of the company's state-of-the-art Albert 2 in-store foot scanning device this past fall that's generated the most award-worthy buzz.
Schwartz describes the Albert 2 as the ultimate, all-in-one scanning technology. "It can do both static and dynamic pressure analysis as well as cutting-edge 3D measurements. It integrates custom-selected prefabricated orthotics, 3D-printed custom orthotics and a machine learning engine that recommends the most-likely-fit footwear from a retailer's inventory by size, "he says. "It features a learning center with an enormous library of content, and voice-activation for a hands-free experience. All this, and it's roughly half the cost (starting at $2,495 or $73 per month) of the competition. " Schwartz adds that Albert 2 isn't a cost center. "At thousands of locations around the world, our scanning technology has proven to drive enormous, untapped profit for partners through orthotics sales," he says, noting Aetrex technology and orthotics is often the most profitable square footage in those stores.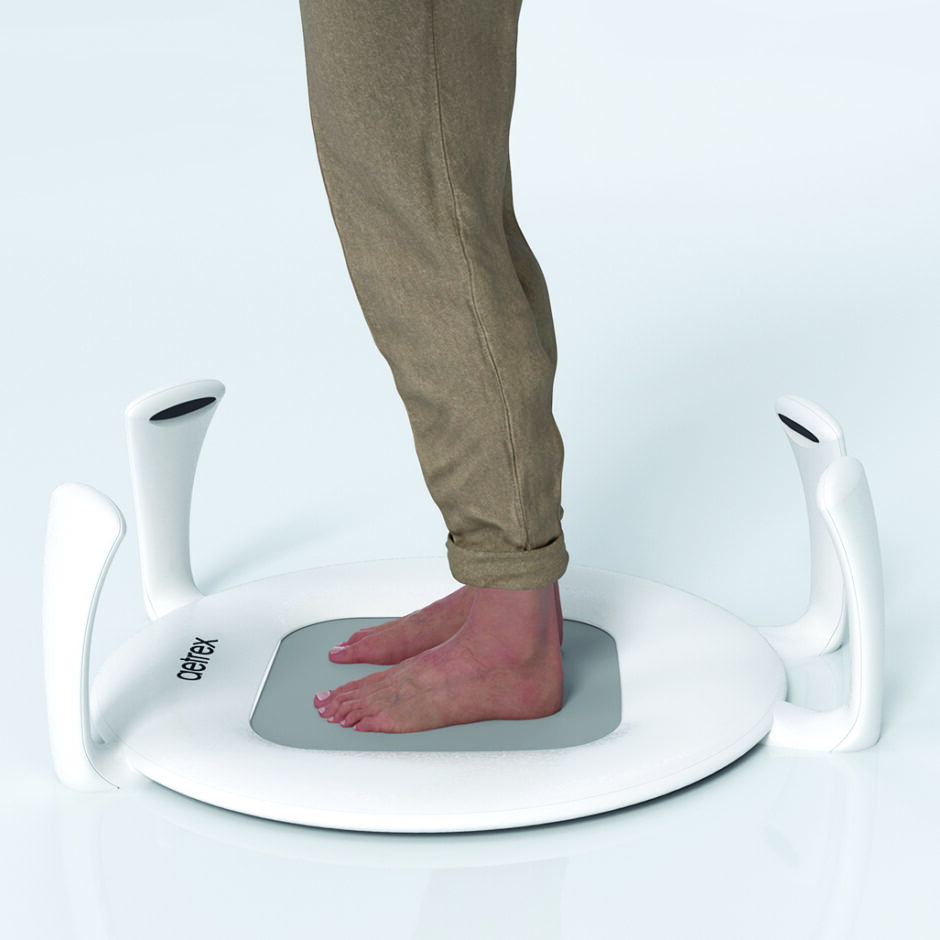 Feedback from retailers who have formerly introduced Albert 2 to their customers has been "phenomenal," Schwartz reports. "We're getting calls for demos from all different types of channels of distribution, such as running, outdoor, global footwear brands, healthcare, workwear and more," he says, noting that the device is a great incentive for consumers to come back into stores. "It offers an experience customers can't get online. Combining pressure analysis and 3D measurements, Albert 2 offers customization under foot through orthotics and the integrated FitHQ helps the customer find the right shoes in the right size. " That, he adds, drives increased conversions and higher units-per-transaction. But don't just take Schwartz's word for it, the Albert 2's Control Panel enables retailers to track scan-to-sale rates and see how it has a measurable relation to driving increased business. Along those lines, the Albert 2 also captures data about consumers' feet — information that not only enables retailers to communicate more effectively with customers after they leave the store, but also to provide a personalized fit experience when they shop their ecommerce platforms.
Despite the epic challenges everyone in the industry faced in 2020, Schwartz says Aetrex came through the year relatively well — a credit to the dedication of the entire team. "I'd give the team an A +," he says. "We're really proud of what our team accomplished. They never stopped working. We had team members choosing to come into the office, even during the early months when our headquarters in Teaneck, NJ, was one of the hardest hit areas in the world. We kept our company financially strong, produced our strongest spring and fall footwear lines ever, and launched Albert 2. When it's all said and done, I'm confident this is a period in our company's history that we will look back on with enormous pride . "
Looking ahead, Schwartz says Aetrex is bullish on continued growth. That confidence starts with having endured 2020, which he says verified two core characteristics of its business model: a relentless focus on innovation and always striving to deliver new value to its customers, and a commitment to a strong balance sheet to sound financial management. "It proved how these key commitments, in combination, allow us to always stay ahead of our competition," Schwartz says, noting the company's excitement as the economy begins to open up towards summer. "Personally, I'm looking forward to a new Roaring Twenties!"